Leather iPad Case From Travelteq
This iPad Case Looks so Good I Could Eat It
Not that I'm hungry or anything, but this iPad Case from Travelteq is making my mouth water. Crafted by hand in Florentine Vacchetta leather, this case not only protects your tablet, but it also adjusts so you can prop it up at the perfect viewing angle on the plane, in bed,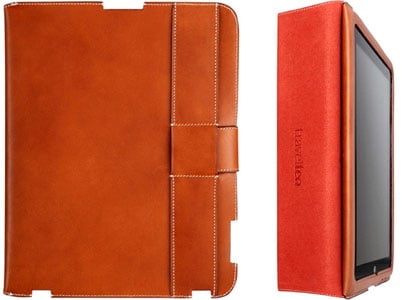 on the couch, or on your desk during a meeting. Better yet, the leather is camel (which is practically perfect for every season — no need for Pantone's approval here), and the interior is a festive orange. How can you possibly go wrong?
So now that I've waxed poetic about this particular case, I guess I can now hit you with the harsh reality — it's $300 dollars. However, if you live outside of the EU (like here in the good 'ole US), you'll get a bit of a discount, bringing the cost down to around $278 (without shipping).