Soften up the iPad Mini's silver chrome with supple leather and suede sleeves that are darling enough to carry like a clutch. Etsy shop Blackbird and the Owl has some beautiful, handmade cases for your handheld tablet that double as a clutch for your keys or wallet.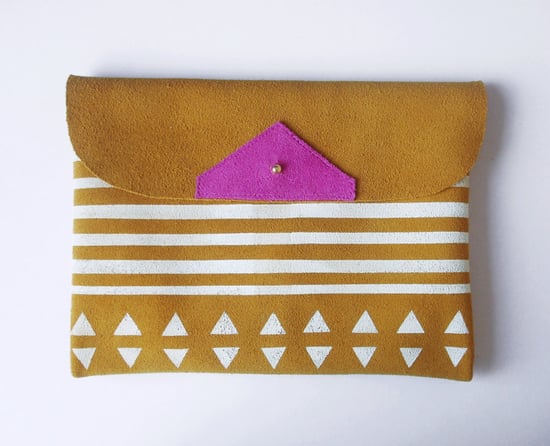 The Golden Honey Suede sleeve ($67) features a striped and triangle pattern silkscreened in white, and a triangular accent color detail on the flap. If honey suede isn't your taste, the case can be made with a variety of leather and suede fabrics in various colors.
The Brown Leather Case ($67) has a golden chevron pattern on its exterior. Its base material can also be customized to meet your preference for suede or leather.
Germany-based shop owner Peggy Wolf brings together minimal shapes with strong design elements in her handmade designs. We're coveting these two sleeves for Fall, but Peggy offers plenty of options for the iPad Mini online. Take a peek at more cases to tote your tablet in after the break.
Soft Gray Leather With Black Pattern ($67)
Brown Leather With Woolen Braid ($95)
If you're looking for cases made for wear and tear, click through our top protective picks for the iPad Mini, and consider these essential accessories for the tablet.