Leonard Nemoy at Last Star Trek Convention
Leonard Nimoy Attends His Final Star Trek Convention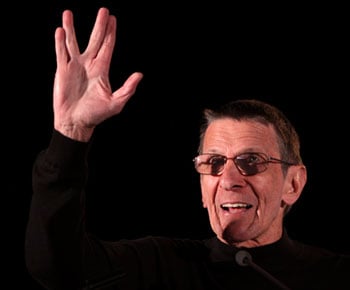 Leonard Nimoy, science fiction fan favorite for his portrayal of Spock on Star Trek: The Original Series, attended his final Star Trek convention last weekend. He bid farewell to the convention circuit at a convention in suburban Chicago, which was also celebrating the 45th anniversary of Star Trek.
During the event, Leonard gave an hour-long presentation of his life and career, including his struggles to become an actor, which even included a gig as a cab driver who once had a very famous passenger — John F. Kennedy. Fellow Star Trek star Jonathan Frakes (Riker to fans), who was also on hand for the farewell, estimated Leonard has attended about 125 conventions, all to see and connect with the fans who made the space show popular.
Leonard concluded his speech by telling the audience "May each and every one of you live long and prosper" and flashing the Vulcan V sign. He'll continue to work on his other passions, including photography and the arts.
Were you lucky enough to meet Leonard at past fan conventions?
Source: Flickr User Gage Skidmore