Leonard Nimoy Talks About Fringe and Retirement
Leonard Nimoy Says He's Not Sad About Retirement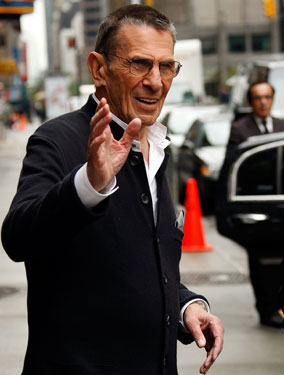 Sci-fi legend Leonard Nimoy is making his final appearance on screen during the season finale of Fringe next week. Although he's really excited for fans to see the epic showdown between Walter Bishop and William Bell, he doesn't regret putting his acting career to rest. When asked during a phone conference if it would be hard to move into his retirement phase, Nimoy said:
It's not hard to say goodbye, I've had 60 years of working in films and television, and I'm very grateful for the opportunities I've had. I had decided not to do any more acting and directing several years ago, but I was called back to do the Star Trek movie. And then J.J. Abrams asked me to play the William Bell character, and I thought I owed him that — and I'm very glad I did it, he's an exciting character — but I had decided long ago that I just didn't want to do this anymore. I did this last job as a favor to J.J. Abrams and I'm glad I did it.
To see what Mr. Nimoy had to say about his — as well as William Shatner's — appearance in the next Star Trek film, just read more.
Leonard solidified that he would not be in the next Star Trek film and unfortunately couldn't confirm whether or not Star Trek series costar William Shatner would be making a cameo. You know me — I'll still be keeping my fingers crossed for a double dose of Captain James T. Kirk during the sequel.