Libratone Wireless Speakers
Innovative Libratone Speakers Let You Ditch Your Wires
Wires and cables can create clutter, which can cause a lot of stress for those folks (like myself) that crave organization and clean surfaces. If I had my way, everything would be wireless 'cause it's just more convenient! I've been recently on the hunt for some cord-free speakers to place around my apartment, and it seems I've hit the jackpot with these.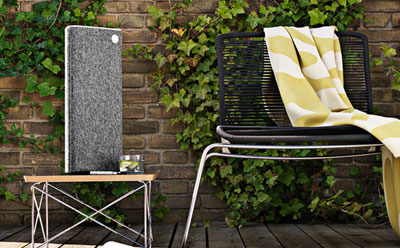 Called the Libratone Beat, these speakers connect to your iDevices and computers via an Apple 30 pin connector or USB transmitter, and can fill your room with sound thanks to its multi-directional innards and open-backed design — no wires required. Use your Mac or PC, Apple TV, Airport, or iPhone, iPod Touch, or iPad with the transmitters, or wire it up the old fashioned way (if you must) to your mobile phone or TV with the mini jack connector.
Find out more about the Libratone Beat (including where and when you can get your hands on one) after the jump.
Even cooler — if you have multiple Libratone Beats around your pad, you can move from room to room with your mobile device while your music follows you as you come within range of a new speaker (range on a 30 pin connector is about 32 feet). Plus, how chic is this design?
Interested? The Libratone Beat will be available in Germany, the UK, and Scandinavia later this month, while music lovers in the US and Europe markets will have to wait until January 2011 to bring one home. However, you can preorder a Libratone Beat now for around $595 if you're so inclined.