Life Lessons Learned From CES
8 Life Lessons Learned From CES 2012
This year's CES didn't just teach us about gadget trends and the future of the industry — it also taught us a few things that we'll remember in our everyday lives as well. Here, we offer up a few tips to take with you on your next journey to a big tech conference, or to keep in the back of your mind for life. Trust me: our pain is your gain!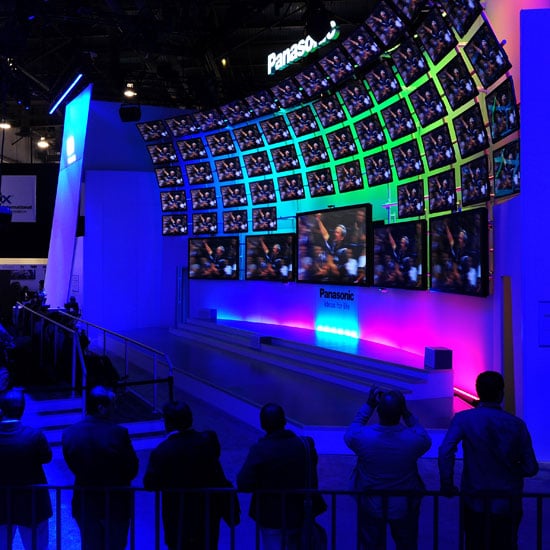 Get plenty of sleep. Between long hours on the show floor and various industry parties (and afterparties), there's a good reason we'd love to see siesta lounges at CES. But if you can't nap during the day, be sure to get enough shut eye at night. This is true even for the real world, where you've got emails, shows, and news to catch up on. Put away the laptop at a decent hour and get your beauty rest. You'll wake up refreshed and ready to take on the day's to-do list.
Carry water. Downing coffee, cocktails, and Diet Cokes, coupled with the dry weather in the desert, and filtered air in the hotels and casinos can cause dehydration fast. Keep a bottle of water on you at all times. This not only keeps your skin fresh, lips hydrated, and head clear, but it'll keep you from overheating due to thirst.
Wear good shoes. Did I mention how much we walked at CES? Seriously, the biggest expo I've ever seen, it spans the Las Vegas Convention Center and surrounding hotels. It's not hard to walk six miles in a single day. Multiply that by three or four days, and you've got yourself a good workout. Dress your feet appropriately for CES, and everyday life, since it can save your back later down the road.
Get in the lunch line early. Hungry bloggers line up to get their lunches far before the 11:30 a.m. call time. Although we never saw a shortage of food, who wants to wait in another line when you're tired and hungry? This is another way to say "eat your lunch." Skipping meals can lead to headaches and crankiness, symptoms you don't want to experience when you're in a fast-paced and crowded space or in your office.
Check out the rest of the list when you read more.
Wash your hands . . . a lot. I didn't want to think about how many other people were touching the same gadgets that I was playing with on the show floor, but now looking back, I wish I would've stopped more often to wash my hands. If you can't get to a washroom, carrying Purell will help stave off germs, but nothing kills 'em like a good wash. Either way, be sure to keep your hands away from your face. Otherwise you can look forward to nasty breakouts and colds in the weeks following.
Pack light. I tried to keep my gadgets to a minimum during this trip, but if you are an avid traveler, a light laptop is paramount. We were toting 13-inch MacBooks, which were a little heavier than we'd like for our backs and shoulders. The only cure? A post-CES massage. Take care of your back, neck, and shoulders everyday by tossing the things you don't need to carry in your bag and lightening your load. And hey, why not treat yourself to a massage once a month. It'll do you good.
Carry foldable flats. If you're heading out on the town, you probably don't want to wear sneakers to industry parties. A chic geek wants to look her best, right? But realistically, heels are not always the best decision when walking the huge blocks and casino lobbies of Vegas. Carry some foldable flats in your bag so you can give your feet a reprieve on the way back to your hotel. This is also true when you're headed out dancing, partying, or whatever, in your hometown. Your knees will thank me later.
Wear sunblock. I was outside for maybe a total of 15 minutes during daylight hours and got the beginnings of a sunburn on my face. You shouldn't ever forget to apply sunblock, even if you think you'll be hidden away in the depths of a convention hall for 10 hours; you never know how high those UV rays will be that day. Sunblock is an essential for everyday life as well, since it will keep the wrinkles (and skin cancer) at bay.