Loan Kindle Ebooks to Other Readers
How to Loan Books on Your Kindle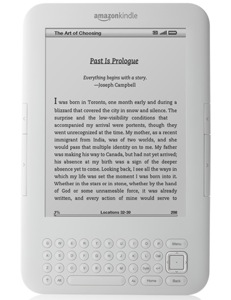 One of the more appealing aspects of the Nook was its ability to loan out ebooks to other readers. Now Amazon has allowed lending on eligible books for up to 14 days as well. If you're a short-distance reader like me (I usually read books during my commute, but rarely during other times of day), you may not get to finish a book in that window of time, however, it's perfect for you novel-devourers and those who need a good title to read while on long-distance trips. Best part is, you don't even have to own a Kindle to lend or borrow — you can use one of the many Kindle apps on the Mac, PC, iPad, iPhone, Android, or BlackBerry devices to take in that wordy bestseller.
Get the details on how to lend and receive ebooks when you read more.
Here are the loaning highlights:
You'll find eligible books to lend on the "product detail" page. Marked as "Eligible" under "Lending."
To lend titles you already own, head to "Manage Your Kindle" and click the plus symbol (+) to get product info. If it is eligible to lend, click the "Loan This Book" button next to the product image. You can then enter the borrower's name and email.
You'll get an email notification if you receive a book from a friend. In the email, click the "Get your loaned book now" button, and you'll be transferred to Amazon where you can accept the book and have it delivered to the device of your choice.
You have seven days to accept the loaned book from the time you receive the email, then have 14 days to read your loaned book.
You won't be able to read the title you've loaned out while it is being used by the borrower.
Kindle book lending is only available in the US.