Loopt Star App Lets You Check In, Find Deals
Foursquare Getting Friendly Check-in Competition From Loopt
You may be obsessed with achieving "Mayor" status at your favorite places on Foursquare, but a new Loopt check-in app may just have you vying to be a "Boss" (and getting a little kickback while you're at it).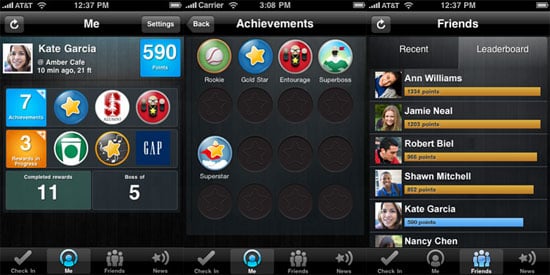 Just like Foursquare, Loopt Star (free) allows you to use location-based technology to check in at your favorite places all around your city, earn points and status (like "Boss," or "Honorary Barista" of your neighborhood Starbucks), but also lets you get some rewards for frequently checking in at certain locations. Find out what some of them are after the break.
For example — check in at any adult Gap store twice, and instantly receive 25 percent off your purchase. Check in at a qualifying bar with two Facebook friends, and you all get five free downloads from Universal Music Group. You can earn more points by checking in with Facebook pals, and move up the ranks on the leaderboards. We all know it's the competitive nature of these apps that really gets us going, right? Well, at least for me that is! New rewards are being added all the time, so the more you check in, the more deals you'll find.