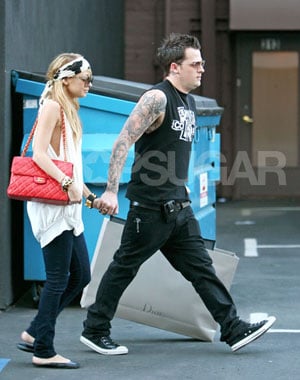 Molly caught the "famous-for- questionable -reasons-but-looks- darn-cute-in-a-head-scarf starlet Nicole and her tattoed and sleeveless ruffian boyfriend Joel" this week - her words not mine! - and while she noted the couple has been out and about
spending money and wearing rings
on their wedding fingers, I think she may have missed a key accessory.
Yep, look closely, that's right.....Joel is actually wearing a cell phone clip. I know we've already deemed the only thing worse than
cell phone belt clips are pocket protectors
, but clearly Joel hasn't gotten the memo. Does he get a free pass because he's carrying a giant Dior bag, or does he need a geek-over stat?
Bauer-Griffin