A Mac-Lovers-Only Dating Site: Cupidtino
A Mac-Lovers-Only Dating Site: Love It or Leave It?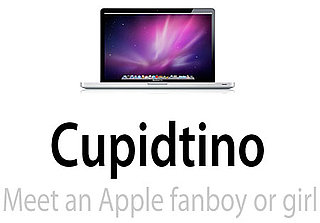 Talk about a dating and technology mashup — Cupidtino is a soon-to-be-launched dating site dedicated to introducing Mac fans to other Mac fans to find love. The website, which is said to be opening to the public in June after a stint in closed beta, will only be available on Safari and Mac platforms, with mobile apps to follow. Why the Mac exclusivity? Cupidtino says:
Diehard Mac & Apple fans often have a lot in common — personalities, creative professions, a similar sense of style and aesthetics, taste, and of course a love for technology. We believe these are enough reasons for two people to meet and fall in love . . .
If this is a real project, I'm excited to see it if for no other reason than to find out if it will actually take off. I'm all for sharing the love of your tech with your significant other, but what about the excitement of clashing with your PC boyfriend? Could make for some spicy nights once you power down. What do you think about Cupidtino — love it or leave it?