MacBook Air Flash Drives
Flash Memory vs. Hard Disk Drives: What's the Difference?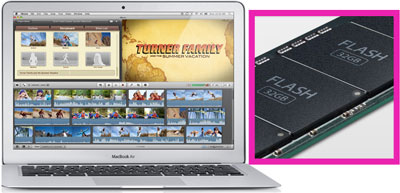 The oohs and ahhs you're hearing over the new MacBook Air aren't just about its looks — gadget geeks are also talking about what's inside. Or more appropriately, what's not. The new MacBook Air comes stocked with a flash memory drive instead of the familiar disk drive.
But what's the big deal, and what kind of a difference does a flash drive make? Find out when you read more.
One of the biggest arguments for Apple using a flash memory drive is space — the smaller drive allows Apple to free up more space for battery, making the overall unit smaller, lighter, and a better performer. But let's break down the differences between the available drives here:
Hard Disk
Your traditional hard drive is pretty bulky, coming with a single rotating platter on a spindle, much like a record player. This makes shock absorption of the utmost importance for this kind of drive, since the moving platter can skip just like a CD.
Flash
A flash memory drive contains no moving parts (a solid-state drive) but is exceptionally fast and tiny compared to other drive options. Additionally, it's super quiet, uses less battery, and is more responsive. You'll find flash memory drives in your iPods and iPhones, which are obviously all compact, silent, and durable. Flash memory drives can take a bigger beating and provide a longer lifespan than other options — the flash drives in the MacBook Airs can stay in standby mode for a whopping 30 days without charging. That's also thanks to the power of flash.
It's a smart move on Apple's part to install a tiny flash drive in the MacBook Air, since this addition makes it more like an iPad than a MacBook Pro. I mean, the purpose of the Air is portability, right?