MacBook Pro Price Drop
MacBook Pro With Retina Drops $200
The joy of Spring just came early: Apple dropped the price of the 13-inch Retina MacBook Pro, 13-inch MacBook Air, and SSD storage upgrade, and boosted the processing power of the 15-inch Retina MacBook Pro.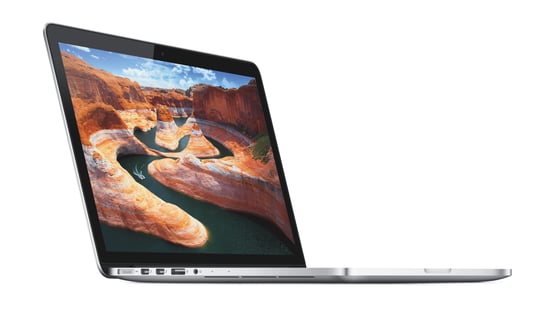 The 13-inch Retina MacBook Pro with 2.5Ghz dropped $200, making it the same price as the 2.9GHz non-Retina version.
13-inch Retina MacBook Pro is $1,499 for 128GB of flash and 2.5GHz (originally $1,699).
13-inch Retina MacBook Pro is $1,699 for 256GB of flash and 2.6GHz (originally $1,999).

This version previously had 2.5GHz, so you're saving money on a processor upgrade as well.
The MacBook Air is also getting more affordable. A 13-inch Air with 256GB of flash and 1.8GHz is now $1,399 (originally $1,499).
Upgrading your computer's storage capacity got cheaper, too. Increasing SSD storage to 512GB is now an additional $300 (originally $500) and to 768GB is $700 (originally $1,000).
The 15-inch MacBook Pro with Retina didn't see a price drop, but it did get more powerful for the same price. It now comes with a 2.4GHz quad-core processor, and the high-end model now comes with a 2.7GHz quad-core processor.
Just picked up a new Apple laptop for the original price? Don't worry — Apple has a 14-day return and refund policy.