MacBook Pro Retina 2013
MacBook Pro With Retina Line Updated From the Inside
Maybe 2013 is the year of the refresh for Apple. Instead of seeing a new take on the Apple TV or wearable tech in the form of a smartwatch like many techies hoped for, products customers already know and love received shiny new hardware inside. A refresh for performance, battery life, and graphics was announced Tuesday in San Francisco for the line of MacBook Pro with Retina display laptops.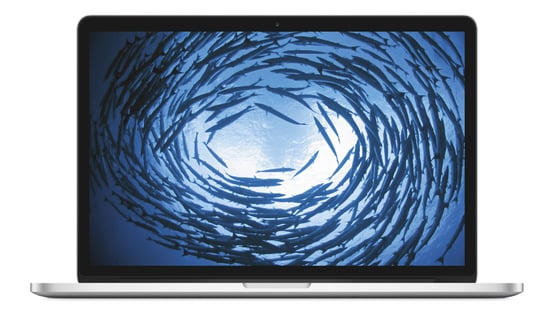 With the fourth-generation Intel Haswell core processor and Iris graphics on board, the 13-inch MacBook Pro with Retina display is reported by Apple to run up to 90 percent faster than its predecessor. Apple also claims it has up to nine hours of battery life while web browsing, as well as nine hours of battery while watching an iTunes movie.
Users can expect a faster computing experience with the 15-inch MacBook Pro with Retina, which has the fourth-generation Intel Crystalwell core processor with Iris graphics. According to Apple, the bigger-screen MacBook Pro has an eight-hour battery life while either web browsing or watching a movie on iTunes.
The 13-inch MacBook Pro with Retina computers start at $1,299 for 4GB of memory and 128GB of flash storage, while the 15-inch displays begin at $1,999 for 8GB of memory and 256GB of flash storage.
The line will ship with the new operating system, OS X Mavericks, today through Apple. Would you rather keep it simple with a non-Retina display MacBook Pro? Apple discontinued the 15-inch MacBook Pro, leaving the 13-inch MacBook Pro (which starts at $1,199 for 4GB of memory and a DVD drive) as the only non-Retina option remaining.