Make a Custom Newspaper With NewsCred
Website of the Day: NewsCred
Similar to a blog, NewsCred allows you to create a personalized online newspaper of interesting news content. It's easy to get started; just sign up on the site and select story categories that interest you. NewsCred pulls news content from more than 2,500 sources, and it's updated constantly to keep your page looking fresh.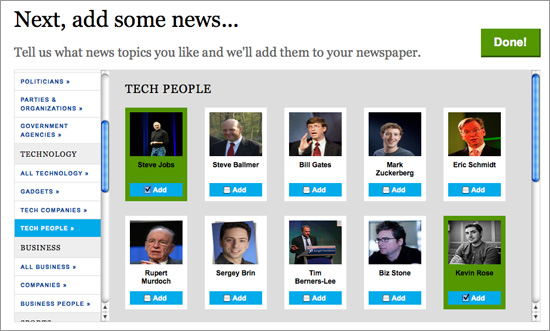 It's a great alternative to a blog reader and a cool way to share news items you find interesting with your friends. To find out why I like NewsCred, just
.
In addition to news stories, there's space to add your own editorials to the content. It also supports video and Twitter feeds. Pro accounts are on their way (you can sign up now to receive notification when they're ready), which will give you access to more news content, and allow you to completely control your page's design with CSS as well as sell ad space on the page. My favorite thing about NewsCred is its appearance; it looks very similar to a printed newspaper, which makes it a little more unique than other content-sharing options.
Do you have an interesting website you want to share? Create a PopSugar Account or log in to your account. Then join the Website of the Day group where you can post your favorite website! And you never know, it could be featured on GeekSugar! Here's a detailed guide to posting questions or posts to groups if you are new to the PopSugar Community.