Make Text Bigger on iPhone
Stop the Smartphone Squint! Make Text Bigger on iPhone and Android
Constantly squinting your eyes to read texts? Join the club. Give your eyes a break and adjust the text size on your iPhone or Android.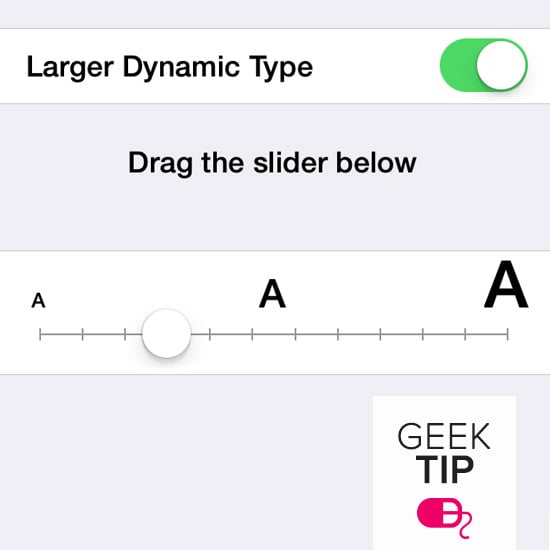 iPhone
In iOS 8, open the Settings app and tap on Display & Brightness. Tap Text Size and drag the slider below.
In iOS 7, open Settings and tap on General. To increase Dynamic Type (the text you see in SMS messages, email, and articles in Safari), tap on Text Size and drag the slider accordingly. The thin text of iOS 7 is beautiful, but can be hard to read. In General > Accessibility, you can enable Bold Text and Larger Type.
For iPhones running iOS 6, go to the Settings app > General > Accessibility > Large Text, and select the most comfortable text size between 20pt and 56pt. In Accessibility settings, you can also turn on zoom, which enables use of a three-finger double-tap to zoom anywhere on the screen, drag three fingers to move around the screen, and double-tap three fingers and drag to change zoom.
Android
On Android devices, from the home screen go to Settings > Accessibility > Large Text in phones with Ice Cream Sandwich or later. Text in the web browser will be normal size, but you can make the font bigger by tapping on the menu button in the address bar > Settings > Accessibility, and increase "text scaling."