Man vs. Wild Video Game
Man vs. Wild Dishes Out the Gamer Survival Tips
I'm more of a Survivorman kind of gal myself but can't deny that the other survival dude on the block, Bear Grylls of Man vs. Wild fame, is easy on the eyes (which makes it pretty darn difficult to turn the channel).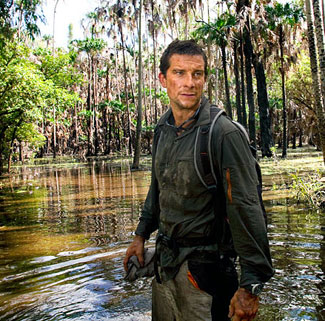 It was announced at this year's E3 that Man vs. Wild would be parlayed into a video game this Fall, and the star of the series recently met up with MTV Multiplayer to chat about the game, and even dished out some survival tactics for other gamer scenarios. It doesn't seem that Bear is too familiar with the games in question, but he does give an interesting perspective on gamer survival. What does he recommend for surviving a Super Mario Bros.-type situation? Well, if you're ever surrounded by hungry turtles and only have a mushroom in hand to fight with, Bear recommends using the mushroom as a decoy and running to safety!
Check out what other tips Bear has up his sleeve for games like Doom and Half-Life in the video after the break.
Check out the full story on MTV Multiplayer, but in the meantime, enjoy the video below!