Mario Nintendo DS Lite Case
Mario DS Lite Character Kit: Love It or Leave It?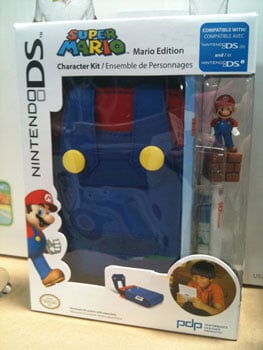 Stocking up on a few World Cup final party supplies over the weekend, I came across this Mario DS Character Kit at my local Costco store. Truth? I squealed like a little NES junkie when I saw it. Looking back, it was kind of embarrassing since the two ten year olds that were browsing video games alongside me laughed out loud, not to mention my boyfriend's mortified reaction. What can I say — I can't resist a little Mario flare!
Meant to protect your Nintendo DS Lite and DSi from scratches and scrapes, this kit comes loaded with a plumber-style overall padded case and a Mario block stylus for easy gaming. If you don't have a Costco in your area, you can also order one for your kids, nieces, nephew, or yourself (I won't judge) on Amazon for $15. But before you whip out your credit card, tell me — do you love it, or would you rather leave it?