Marissa Mayer in Vogue Photo Shoot
Marissa Mayer Strikes a Sultry Pose in Vogue — and Riles Up Critics
Marissa Mayer graces the pages of this month's Vogue in a revealing profile titled "Yahoo's Marissa Mayer: Hail to the Chief" — and not everyone's thrilled with the Yahoo CEO's come-hither pose.
She is one of an unfortunately small number of Silicon Valley women in the C-level spot. Just 14 percent of executive positions in tech companies are held by women, a ratio that puts Marissa in the public eye and makes her particularly susceptible to criticism.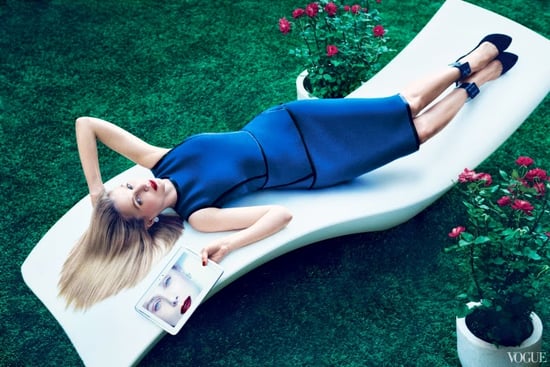 The world is watching as the ex-Google VP attempts to redirect a waning Internet giant. Since she took over as CEO in July 2012, Marissa has tried to reenergize Yahoo by focusing heavily on mobile. This year, Yahoo remade their homepage, email, suite of mobile apps, and Flickr to be more responsive to small screens. Marissa has led the charge on several major acquisitions as well, including Tumblr and Summly, to bring in a more youthful audience. On Wednesday, the company even beat Google in traffic for the first time since 2011 — and yet, its CEO still can't catch a break from critics.
The Vogue photo — in which Marissa is stretched across a white lounge chair in a blue Michael Kors dress and Saint Laurent heels, while holding a tablet that appears to have her own face on it — has met a mixed response. CNN's Pepper Schwartz, who was "disappointed" with the photo shoot, posed this question: "Here's a woman who has made it to the top because of her brains, does she still need to self-validate by having a beautiful fashion gig?"
Hannah Ridge at Policy Mic thought the piece "emphasize[d] appearance and apparel" which ultimately "draws away from the seriousness of the women's work." Kara Swisher at All Things D called Marissa a "hey-look-at-me-CEO."
From the opposite corner, Anna Holmes, founder of Jezebel, remarked in a Time article that the Vogue spread, "makes me yearn for a time . . . in which women in positions of power are so commonplace that we do not feel compelled to divine motive or find symbolism in every remark they make, corporate policy they enact, or fashion spread they pose for."
From a business perspective, branding professional Karen Leland commented, "This is a reminder that going forward, CEOs have to carefully craft a personal brand in addition to their company's brand" to Entrepreneur.
Whether or not you believe this type of coverage is damaging to strong female figures, it's impossible to deny that Marissa, who admits that she's "just geeky and shy and . . . like[s] to code," makes her own rules. The Vogue article points to a product-review meeting where the CEO is unwilling to compromise user experience for advertising revenue, and is direct in expressing her opinion, "I'm not sold on this. I'm not ready to green-light it."
Those quick to criticize Marissa, who is also a computer science professor at Stanford (you know, on the side), for the photo's vanity, overlook how a piece like this can have a positive effect on encouraging women into STEM fields. Women interested in the arts, style, and fashion — who may have previously felt excluded from the industry's male-centric, geek culture — can relate to the Yahoo executive's penchant for designer workwear and, because of Marissa, one day see themselves at a tech company in that same C-suite position.