Mark Zuckerberg Named Time Magazine's Person of the Year
Mark Zuckerberg Is Time Magazine's Person of the Year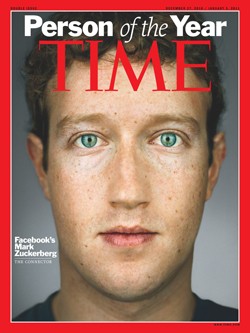 Let it be noted that Dec. 15 is a great day for Facebook! Just this morning, the company was named one of the best places to work in the US by its employees, and alongside that honor, Time Magazine named Mark Zuckerberg as its Person of the Year for 2010.
Zuckerberg did have quite a year as Facebook dominated the social networking scene, a Golden Globe-nominated film was made about his life, and he donated $100 million to the New Jersey school district, pledged to donate half of his wealth to charitable causes, and is the second youngest person to be named Person of the Year by Time (coming in second to Charles Lindbergh, who was 25). Hear what Time's Lev Grossman has to say about the selection when you read more.
Time's senior writer, Lev Grossman, notes that Mark's accomplishments in connecting the globe through Facebook are what earned him the top honor:
. . . for connecting more than half a billion people and mapping the social relations among them; for creating a new system of exchanging information; and for changing how we all live our lives.
Do you agree with Time Magazine's selection? If not, who would you have chosen instead?