Mark Zuckerberg, Steve Jobs, and President Obama Guest List
Is This the Official Guest List For Silicon Valley Meet-Up With President Obama?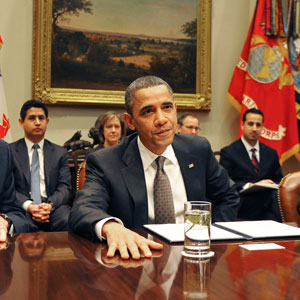 It seems that NBC Bay Area has gotten its hands on what appears to be an official guest list for tonight's Silicon Valley dinner with President Obama.
As you may have already heard, the POTUS will be landing in the Bay Area tonight for a tech meet-up of his own; already-confirmed guests include Mark Zuckerberg, Steve Jobs, and Eric Schmidt. However, the dinner table will be packed with other tech CEOs and bigwigs.
See the rumored full guest list just after the break.
John Doerr, Partner, Kleiner Perkins Caufield & Byers
Carol Bartz, president and CEO, Yahoo!
John Chambers, CEO and chairman, Cisco Systems
Dick Costolo, CEO, Twitter
John Doerr, partner, Kleiner Perkins Caufield & Byers
Larry Ellison, cofounder and CEO, Oracle
Reed Hastings, CEO, Netflix
John Hennessy, president, Stanford University
Steve Jobs, chairman and CEO, Apple
Art Levinson, chairman and former CEO, Genentech
Eric Schmidt, chairman, Google
Steve Westly, managing partner and founder, The Westly Group
Mark Zuckerberg, founder, president, and CEO, Facebook