Marriage Proposal on the iPad
Is This the First iPad Marriage Proposal?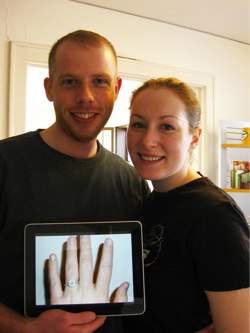 TechCrunch recently posted an email from one of its readers detailing an iPad-based marriage proposal. Apparently, the couple went out for ice cream (to the same place they had their first date) and Zach, the proposer, handed her an iPad and earphones, played a slideshow of photos of the two of them, and ended with the message, "Will you marry me?" As you can see in the photo the happy couple is displaying on the iPad (which clearly wasn't captured with the camera-less iPad), she said yes.
This is another one to add to my list of awesome geeky proposals, and most of you agree — you'd be down with a geeky proposal, too!