Mars Curiosity Facts
The Mars Curiosity Rover vs. the iPhone 5
If the Curiosity Rover and the iPhone 5 went head to head, who would win? Today at the MacWorld/iWorld Expo, Ben Cichy, James Kurlen, and David Oh of the NASA Jet Propulsion Laboratory got under the hood of both robot and device, and showed how the nearly two ton Martian stacks up against the .25-pound iPhone 5.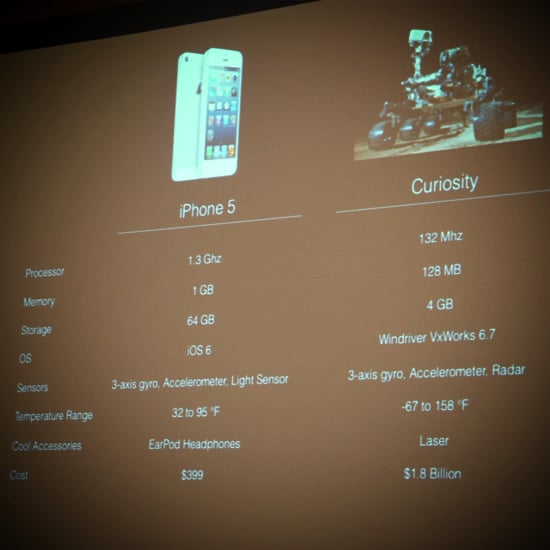 So, how does Apple's latest and greatest smartphone fare against the NASA rover currently transmitting HD images and video from the surface of Mars? The iPhone 5 bests Curiosity in terms of processor, memory, storage, and (low) cost. But the rover indisputably takes the cake in terms of temperature range and accessories (laser auto-win). Plus, it's a little more mind-blowing to know a computer not even as powerful as many people's phones is currently hard at work on another planet.
In truth, NASA and Apple aren't competing at all. In fact, most of the software code that landed the Curiosity Rover was written on Macs. And, just in case you forgot how amazing that landing was, here's a little reminder.
Stay tuned for even more updates from Macworld by following us @geeksugar on Twitter and Instagram and, of course, the GeekSugar homepage!