Marvel Female Superhero Books
Rogue and She-Hulk Star in Marvel's New Female-Powered Fiction
Strong and smart heroines are finally leading the Marvel charge: first, in an all-female X-Men comic series, and now, in two new prose novels from Marvel and Hyperion Books featuring the power-absorbent Rogue and transforming She-Hulk Jennifer Walters.
In February, Marvel and Hyperion Books announced plans to publish the female-focused fiction, and this month, Rogue Touch ($15) and The She-Hulk Diaries ($15) are finally available for preorder ahead of the titles' June 18 release.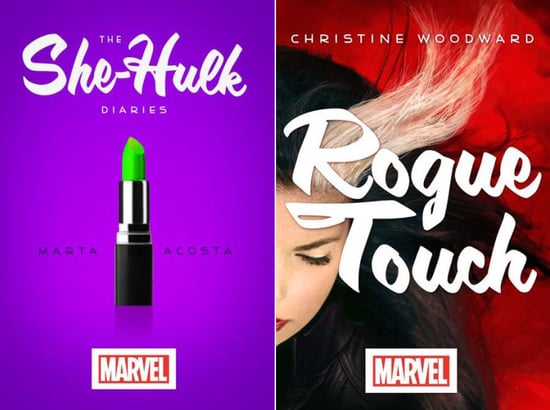 Christine Woodward's Rogue Touch explores the challenges of everyday life and romance for Anna Marie of X-Men. Anna's touch is, of course, deadly, and after accidentally leaving her first boyfriend comatose, she flees her home. She meets a mysterious — but handsome — stranger named James, and the two embark on Bonnie-and-Clyde-esque adventures.
The She-Hulk by Marta Acosta features the Avengers character of the same name, who shares her cousin Bruce Banner's mutant transformative powers. The novel follows Jennifer Walters, as she's known in her nongreen state, and the delicate balance between her corporate-ladder-climbing career by day and justice-avenging, villain-fighting duties by night. There's also the matter of finding love, not exactly easy for a woman prone to, on occasion, becoming very big and very green.
We're excited to dig into the new female-powered superhero fiction — but before the books' June 18 release, preview excerpts from Rogue Touch and The She-Hulk at Marvel, and let us know what you think about the leading ladies of Marvel's new roles.