Marvel movies already dominate the box office, and now the company is making its characters as live-action as it can possibly get with with Marvel Universe Live! — a live arena show first announced at this year's New York Comic Con — which uses special effects, martial arts, and pyrotechnics to bring Marvel-world characters into the same adventure. Consider it Cirque du Marvel.
Marvel shared with POPSUGAR the female characters that will appear in the show when it debuts next year, a mix of superheroines and villains: Black Widow, Madame Hydra, Maria Hill, Black Cat, and Captain Marvel. Starting July 2014, the ladies of Marvel join with the comic world's other heroes and villains as Marvel Universe Live! tours 85 cities throughout North America.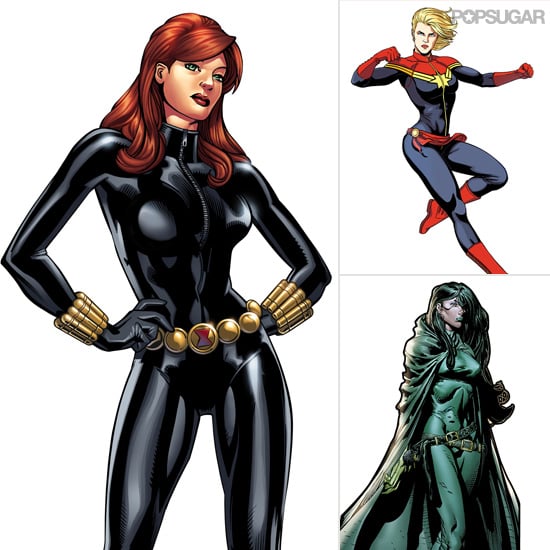 "One of the aspects that makes Marvel Universe Live! so compelling is the Marvel women," Shanda Sawyer, the show's director, told POPSUGAR. "Because of Marvel's tradition of powerful female characters, both heroic and villainous, the women in this show will play major roles in all the action, performing breathtaking stunts and fight sequences right alongside their male counterparts. I love the fact that our audiences, especially women and young girls, will have the chance to be inspired by seeing these real-life superwomen in action."
We have a peek at what fans will see in the arena, starting with the first look at Avengers member Black Widow.
The costume isn't finished just yet, but the above composite sketch details the development process for bringing Black Widow to the arena and hints at what fans will see when she's ready to battle. Black Widow's outfit may seem simple at first glance, said costume designer Cynthia Nordstrom, "but for me, she is really a complex design of pieced leathers, to show off her complexity as well as her curves. Her design mixes fashion with a no-nonsense function in combat!"
Also in progress is finding the right people to take on the task of bringing comic book characters to life. The picture above gives a glimpse into the current audition process. "We've been on an extensive casting search for just the right people who can bring these amazing characters to life in the arena," said Sawyer. "Our performers need to have both the physical presence and charisma and verging-on superhuman athletic skills." 
While we saw Black Widow's in-the-works costume, the remaining characters' costumes are still in early stages of development, but below, Marvel offered a look at the images the production crew is using when designing the looks and outfits for the other female characters.[/break]
Madame Hydra
Maria Hill
Captain Marvel
Black Cat
Marvel will be announcing one more character on the Marvel Universe Live! Facebook page today; in the meantime, see a trailer for Marvel Universe Live! after the jump.