Matt Smith at Comic-Con 2013
The Doctor and Jon Snow Will Now Take Your Questions
It's only day one of Comic-Con, but there's already a winner for most adorable panel. Matt Smith of Doctor Who, Kit Harington of Game of Thrones, Steven Yeun of The Walking Dead, Tyler Posey of Teen Wolf, and David Giuntoli of Grimm faced their fandoms and took the audience's most pressing questions.
The fresh-faced stars of TV spoke candidly at Entertainment Weekly's Brave New Warriors panel, which assembled young actors who represent "a new generation of heroes and badasses." In what follows, we present the best bits from the panel. We've also included a picture of a certain bicep that you can click on for further inspection. If you want.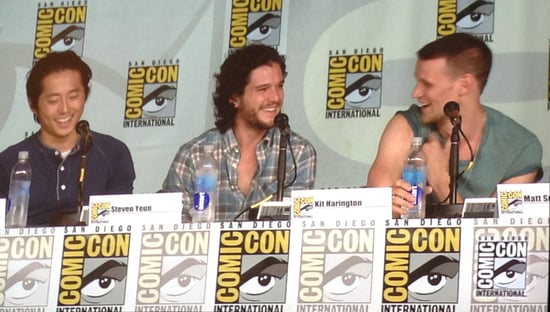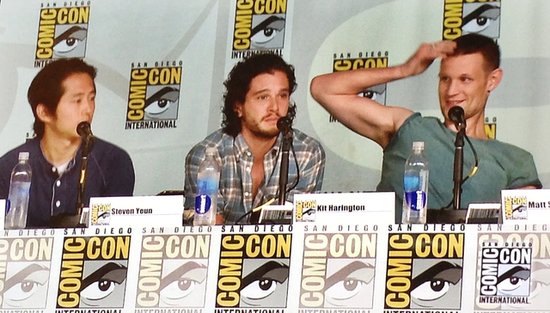 What part of your character do you most see in yourself?
Matt Smith — "I'm a bit clumsy. But he's a 1,000 year old time lord. He's just a much better creature than I am."
Kit Harington — "I can be quite . . . emo. If Jon had an iPod, it would have exactly the same type of music as me."
Tyler Posey — "His good heart. He wants the best for everybody, and I can definitely relate to that. And the werewolf aspect."
How would you like your character to die?
Matt Smith — "I feel like I already know how it ends. There's a golden light, open a TARDIS, put my arms out . . . and then I turn into a woman!"
Kit Harington — "On a Sunday afternoon. I'm 85 years old. Resting on the side of a big iron chair."
Steven Yeun — "While I'm riding a motorcycle, I go off a ramp and I kill a bunch of walkers! There's an explosion. And my heart can't take how awesome it all was. I dig myself a grave, and I just get in it because I can't handle it all."
Tyler Posey — "Beheaded would be cool. But he has to be saving somebody. Maybe even a villain."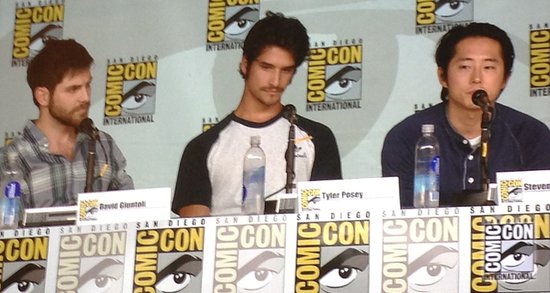 What is the bravest thing your character has ever done?
Kit Harington — "Leaving her."
What character will you play next?
Matt Smith — "Mark Simpson."
Kit Harington — "Harry Potter."
Steven Yeun — "Spiderman."
Tyler Posey — "Luigi. Because I already look like him."
David Giuntoli — "An Angry Bird."
What's the creepiest thing a fan's ever done?
Matt Smith — "A little girl, of about 12, was in a bush and jumped out. She was a cool kid, but I had to tell her to go home."
Steven Yeun — "I'm just walking around, and a fan sees me about a block away. I see her her too, so she starts zombie walking toward me. You can tell halfway through she was like, 'I regret this decision,' but kept on walking. The first thing she said to me was, 'I'm sorry! But I committed!'"
David Giuntoli — "I live in the ninth floor of an apartment building in Portland, where we shoot Grimm. And occasionally I hear things outside the door the apartment. But I heard some rustling, and then a note slipped under my door. All it said was, 'BIG FAN.'"
Watch the full panel after the break (beware piercing screams).
Photo: Nicole Nguyen