Matt Smith Leaving Doctor Who
Matt, Jenna, and Steven on the New Doctor, TARDIS Magic, and Who's Next to Leave
It felt like an 11th Doctor farewell tour, as Whovians lined up in San Diego over the weekend to see Matt Smith in his final appearance during the annual fan event, as he's stepping down from the iconic sci-fi role at the end of the year. "It'll be very sad, it's been a transformative experience," Matt told us of leaving the show. "I'll miss Comic-Con. I'll miss people being actually interested in what I'm doing . . . Yeah, I'll sleep more, but no one will be screaming when I walk into a room full of people dressed in fezzes."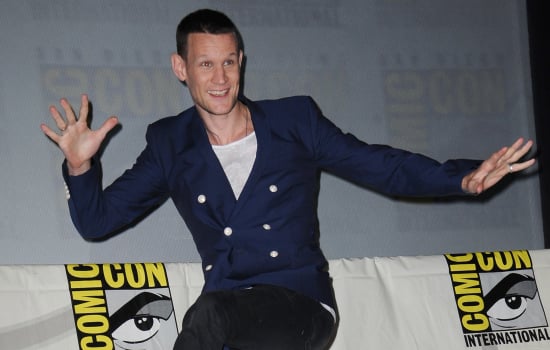 When taking the role of the Doctor, an actor can be sure of one thing, it's not a long-term gig. In the 50 years since the first episode ever aired on the BBC, 10 actors preceded Matt as Time Lord. While Matt hasn't hung up his bow tie for good yet — he still needs to film the annual Christmas episode and the regeneration into the next Doctor in season eight— fans online are already speculating on who should take the lead, and if this is the opportunity to make the next Doctor a female. Those involved with the show are tight-lipped of possible successors as Matt echoed, "I just want to see the best actor in the role, whether that be man, woman, otter."
With the actor who's been to many viewers the sole face of Doctor Who departing, could this also mean the end for the series' showrunner, executive producer, and writer Steven Moffat? When asked if his term leading the show were ending soon, Steven said "I take it one year at a time. I'm doing it next year and at the end of that, I'll decide if I do it next year."
However, the feeling of needing to move on "hasn't happened even remotely yet. I'm still having a ball." Thankfully for audiences fond of the series in its current state, remaining alongside Steven for season eight will be the Doctor's current companion, Clara, as played by Jenna Coleman, who didn't grow up watching the show, but has quickly come to appreciate its fairy tale-like charm.
"There's still nothing like walking on the TARDIS," Jenna explained to us in the show's Comic-Con press session. "We went back for the royal visit, we'd been away for a little bit, and when you walk back on, you get that little . . . "
"That feeling," Matt chimed in.
Source:
Getty
and Nicole Nguyen