Matt Smith Sherlock Audition
Matt Smith's Sherlock Audition, Darth Princess, and More Geeky Tweets
'Tis the season of geek TV! With Doctor Who's anniversary episode just around the corner and the Sherlock premiere officially months away, our favorite tweeters are sporting their geek flag in honor of the two BBC shows. Chloe Dykstra, host of Just Cos on The Nerdist channel, showed off her mini mutant cyborg, and actor Wil Wheaton went hysterical after the Sherlock premiere date was announced. See Chloe, Wil, and more in this week's roundup of 10 tweets from geeks we love.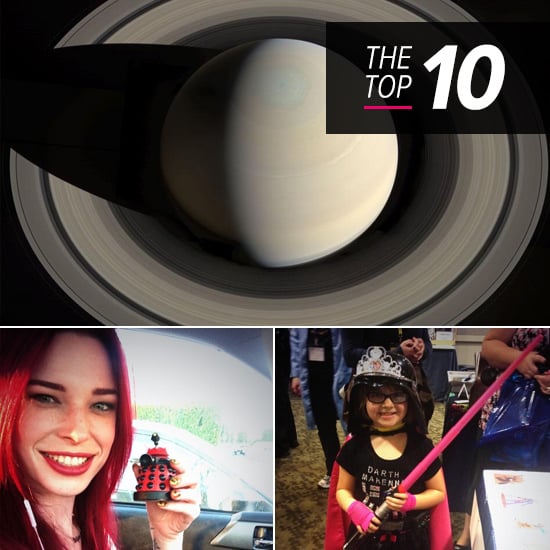 YES! Sherlock finally got a season three premiere date! Safe to say that actor Wil Wheaton is beyond excited.
If you were counting down to the new #Sherlock — and I most certainly am — you'd say that there are 88 days to go. Or: 126,720 minutes.

— Wil SCREAMton (@wilw) October 23, 2013
Read on to find out another very surprising Sherlock bit!
Just in time for the 50th anniversary, Just Cos's Chloe Dykstra gets a mini Dalek gift.
Thanks @Yellowglasses for my car surprise! I am the happiest of girls. <3 pic.twitter.com/LmXGiFiHJS

— Ghoulie Dykstra (@skydart) October 14, 2013
Sherlock and Doctor Who writer Mark Gatiss reveals a very surprising bit about Matt Smith. What if Eleven was Watson?
"I'm not the John Watson you know'. Just found Matt Smith's #Sherlock audition in a dusty box. Don't ask me to share!

— Mark Gatiss (@Markgatiss) October 20, 2013
The Star Wars Craft Book author Bonnie Burton spots the most adorkable evil Jedi!
Darth Princess at @GeekGirlCon! #GGC13 #StarWars cc: @TheMarySue @HerUniverse pic.twitter.com/rsuboBkH6F

— Bonnie Burton (@bonniegrrl) October 19, 2013
Cygnus, a private spacecraft that made a historic rendezvous with the International Space Station in September, was unhooked from the space station after its test flight, and Expedition 36 NASA astronaut Karen L. Nyberg got a close-up view.
And away she goes... #Cygnus. October 22. pic.twitter.com/T0PMbxc5f6

— Karen L. Nyberg (@AstroKarenN) October 22, 2013
Yikes. As The Sync Up host Veronica Belmont notes, Nokia's >a href="https://www.popsugar.com/tech/Nokia-Lumia-2520-Specs-32239363">Lumia launch got a little lost in the midst of Apple's big iPad news.
So how about those Nokia announcements today, huh? Anybody? *crickets*

— Screamonica Hellmont (@Veronica) October 22, 2013
Start off Halloween week with some classic horror à la director J.J. Abrams.
"Hallo! Vould you like a roll in ze hay?" - Inga, Young Frankenstein #BRQuoteDuJour #MovieQuotes #Halloween pic.twitter.com/WeEIh2QJEm

— Bad Robot (@bad_robot) October 25, 2013
Guess who's back on Supernatural! Geek & Sundry's Felicia Day, who plays hacker Charlie, of course.
Reminder: Charlie's back on next Tuesday's #Supernatural! It involves Wizard of Oz, and I'll be live Tweeting prolly. Stay tuned for deets!

— Felicia Day (@feliciaday) October 25, 2013
So astrophysicist Neil deGrasse Tyson, what's your first favorite?
Not that anybody asked, but here's my (second) favorite planet -- from above: http://t.co/BtsFWSNTNC pic.twitter.com/tKlEe36a80

— Neil deGrasse Tyson (@neiltyson) October 21, 2013
X-Men actors Patrick Stewart and Ian McKellen, who are about to star on Broadway in No Man's Land and Waiting For Godot, make a pit stop at a landmark commemorating the Stonewall riots, the historic LGBT event in 1969.
Stonewall! #gogodididonyc @TwoPlaysInRep pic.twitter.com/1Unv3OuUIB

— Patrick Stewart (@SirPatStew) October 23, 2013