MeMap Shows Shared Check-Ins on a Map
MeMap Shows Your Shared Check-Ins on a Map
Your iPhone is loaded with geo-location apps like Foursquare and Gowalla, and you even use Facebook Places. All that is fine and dandy, but wouldn't it be nice if you found an app that compiles all of your (and your friends') social check-ins on one singular map? Enter MeMap (free), which does just that.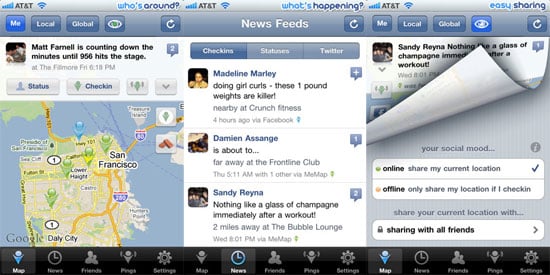 Using your shared check-ins, MeMap shows you which of your friends are around you now. One of the benefits? You know that you and your friend Sara are in the same neighborhood, but with MeMap, you can see that she's actually just a block away so you can pop in and say hello. Best part, you can customize privacy to show or not show your check-ins, so you always have control over who sees your location and when. MeMap works with Facebook Connect, so any location check-in used on Facebook Places or third-party apps linked to Facebook can be recorded.
What do you think — would you use MeMap?