Memolane Social Network Time Line
Memolane Turns Your Social Activity Online Into a Time Line
Tumblr, Twitter, Flickr, Instagram, repeat! Our online social lives are so full and busy, it's sometimes difficult to keep track of everything that's going on. A new service is aiming to streamline the process, combining social activity into one easy-to-navigate time line. Memolane is a start-up based in Denmark and San Francisco, which displays your online activity as a series of individual memos, arranged by time in scrapbook-like fashion.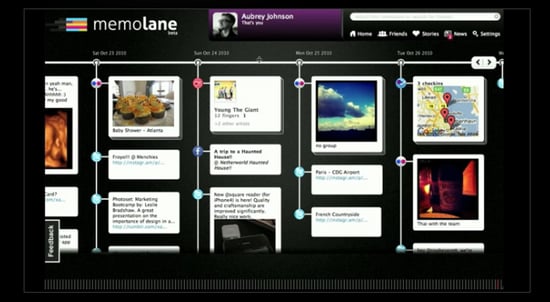 Interested? Find out more after the break.
Days are displayed on a horizontal time line; scroll down to view individual posts from that day and navigate the time line via a bar on the bottom. It's perfect for organizing your online life, or just for a little bit of nostalgia — see what you were up to days, weeks, or potentially years ago by using the service regularly. It works with a variety of services: Facebook, Twitter, Instagram, YouTube, Picasa, Flickr, TripIt, Spotify, Vimeo, and Last.fm. Users can choose to keep their data private, share with a select group of friends, or make it completely public. Users can also collaborate, creating shared time lines around a particular theme or event.