Michelle Obama Sends First Tweet
Geek Shot: The First Lady Sends First Tweet From an iPhone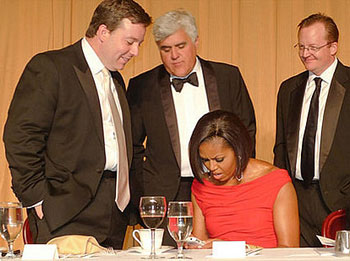 At the White House Correspondents' Dinner over the weekend, CNN's Ed Henry coaxed the first lady to send her first tweet from his iPhone. Surrounded by stars and political luminaries, Michelle Obama declared that she was excited to see Jay Leno take the stage, but according to Henry, she had a bit of trouble typing on the keyless touchscreen of the iPhone.
Here at dinner this is officially my first Tweet. i am looking forward to some good laughs from the potus and jay
Although it wasn't sent from her own Twitter account (she's yet to sign up), I'm hoping this exercise in social media will convince Michelle Obama to hop on the Twitter train like the president and other members of the White House staff have already done!