Microsoft Kinect Review
Kinect Review Pt. 1: The Way of the Future?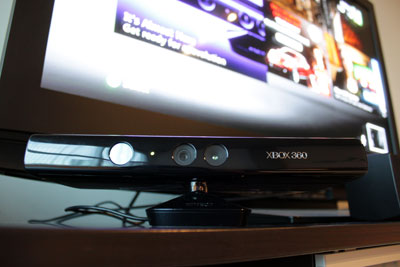 While testing out the Microsoft Kinect system this past week, there was one thing that kept running through my mind: Leonardo DiCaprio's breakdown scene in The Aviator (stick with me here). Unlike Howard Hughes, I don't have a crippling case of OCD, but I do think that the Kinect system is "the way of the future." Think about it — just a few short years ago, the Wii broke serious ground in the motion control arena, followed by the glowing remote of the PlayStation Move, but taking leaps and bounds ahead of that is the Kinect, which uses no controllers at all. Sure, some serious gamers will say that controller-less games are a fallacy and may be no more than a baby's toy. OK, fine. But here's something — maybe there's room for both.
The Xbox 360 has always kinda been known as "the gamers' console". There are plenty of games for hardcore gamers to choose from, and access to Xbox Live to play online with your friends makes it social, but really, the Kinect allows the Xbox to be the best of both worlds, fluffy and edgy, at the same time. It's obvious that Microsoft is targeting the "nongamer" for this system, as it's been featured on shows like Oprah and Ellen, and I believe that it will open up a huge market for Microsoft to tap into.
Find out more about the Kinect, along with the rest of my review after the break.
In case you missed all of our previous Kinect coverage, let me tell you what the Kinect is all about. The Kinect is a wireless system that uses your body as a controller. Just wave your hands in front of the sensor to activate, then use your body to play. You can also use voice commands to open the Xbox tray, play games, watch videos, or even launch other programs inside the Kinect Hub. Find out about that, along with the pros and cons below!
Kinect Hub
When you first fire up the Kinect, you'll be taken to the Kinect Hub, which allows you to use your new motion controller to play games, access the Zune hub, Last.fm, ESPN, and the Kinect video chat area. Since there's a camera on the Kinect sensor bar, you can use this as a webcam to chat with far away friends and family (using MSN messenger). More apps are said to be coming to the Kinect hub soon, so you can keep the controller in the charger even longer.
Responsiveness
Not using a controller may be hard to get accustomed to at first, but once you get the feel for it, it's as easy as waving your hands. While you're playing (even with up to 4 people), the Kinect does a fine job of picking up on your movements and responding accurately, but you'll want to keep the lights on and windows open as it does lose some of its luster in super low light.
Games
I got to play a number of games, all of which will be reviewed during part two of my review, but If I had to choose one that was my favorite, it's Kinect Adventures, while my family really enjoyed playing Kinect Sports.
Pros and Cons
Pros: Installing the Kinect was super easy — just literally plug it in and go — while the games are easy to understand, come with great instruction and tutorials, and as I said above, was super responsive. You can even control your videos and movies with the Kinect by sliding your hand across the timer bar and use voice commands to stop, play, and pause. Amazing!
Cons: Although I loved using my hands, legs, and feet to control my avatar, you need a large amount of room to take full advantage of the system. If you move too close to the sensor bar, the Kinect won't be able to track your legs, which can prove to be disastrous for games like soccer and track and field. Also, and this may be confusing for some, you can't use the Kinect sensor outside of the Kinect Hub. While in the main Xbox dashboard (which gets you into Netflix, Xbox Live, and so on), you'll need to pick up the controller. I'm not sure why Microsoft didn't allow the entire dashboard to be controlled by the Kinect, but it's a flip-flop you'll have to get used to for now.
Price and Availability
The Kinect system is available starting today online and in stores for $150. If you don't have an Xbox 360, you can pick up a Kinect bundle starting at $300.
Check back for part two of my review when I go into detail on all of the games I got to play! They include:
Kinect Sports
Kinect Adventures
Kinectimals
Joy Ride
Your Shape: Fitness Evolved
Dance Central