Microsoft Mango 7.5 Features
AT&T Upgrades to Mango: Some Features You'll Love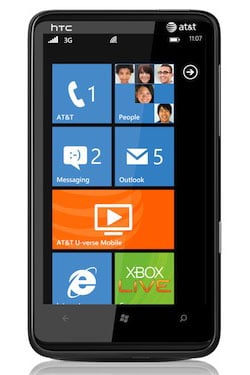 AT&T announced today that its entire collection of Windows phones would be getting an upgrade to Mango 7.5 this Fall. Plus, there will be three new Windows phones to choose from — the Samsung Focus S, Samsung Focus Flash, and HTC Titan — later this year.
Though Windows phone users seem to be few and far between, when compared to those smartphone users that pledge allegiance to iOS, Android, or BlackBerry, Microsofts Mango has often tempted me away from my standard iPhone fare. The user interface is quite pleasing (once you get used to not clicking on icons, like you find in most phones these days), and super stylish. Plus, when Mango was first released, it came with over 500 new features. Now that Mango 7.5 is out in the open, check out some of the features that might make you want to switch:
Hands free — When you're driving, Mango can announce an incoming call or text message and will allow you to respond to either without ever picking up your handset. Safe driving FTW!
Threads — Switch between your active texts, Facebook chats, or instant messages in one threaded space, so you can keep the conversation going no matter where it takes place.
Local Scout — Bing will aggregate activities and events that are going on around your current location and allow you to rate each activity.
App Shortcuts — Kind of like multitasking, App Shortcuts are a handy feature in Mango. For example, if you're reading about a movie while surfing the web, Mango will create a quick shortcut to your IMDB app, so you can check out the film's details.
Fast app resume — This feature keeps things moving as it quickly reboots apps that have been recently used.
Turn-by-turn navigation — Bing Maps supports voice-guided, turn-by-turn directions, so you don't have to take your hands or eyes off the wheel when you're in a new 'hood.
Kinect support — For the übergamer: you can interact with Xbox Kinect games with your Mango phone.
Bing Vision — Scan QR, Microsoft Tags, books, CDs and DVDs for quick info and pricing.
SMS dictation — Microsoft Tellme technology helps you text on the go by enabling you to speak your texts instead of typing them on your virtual keyboard.
Want to learn more about the three new Windows Phones coming to AT&T? Catch the available specs after the break.
Samsung Focus S
4.3-inch Super AMOLED screen
1.4Ghz processor
4G-capable
Rear-facing 8MP camera, 1.3MP forward facing
Samsung Focus Flash
3.7-inch Super AMOLED screen
1.4Ghz processor
5MP rear-facing camera and forward facing camera for video chatting
HTC Titan
4.7-inch screen
1.5Ghz processor
8MP rear-facing camera with dual flash
Play Xbox Live games on the go