Microsoft Surface Pro 2 Specs
Microsoft's Surface Pro 2 Puts the Focus on Power
The Fall product launch season continues with Microsoft's announcement of the multitasking Surface Pro 2, its second-generation laptop replacement tablet running the full Windows 8.1 desktop operating system. Like the Surface 2, the Pro ($899 for 64GB, 128GB price TBA) will be available for preorder at 8 a.m. EDT on Sept. 24 at Microsoft Stores and Best Buy retail outlets in the US and Canada.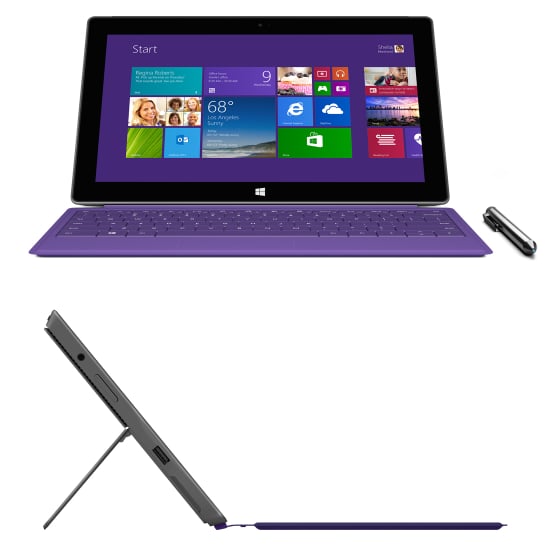 Unlike the Surface 2, the Surface Pro 2 did not receive a hardware upgrade: the dimensions, color, and weight will remain the same in the second generation. The only update to the exterior is the kickstand, which can now be adjusted to two viewing angles. The biggest improvements are under the hood, with a new Intel Core i5 Haswell processor that boosts graphics performance by 50 percent and improves battery life by 60 percent.
Microsoft is offering two value-added services for both of its upgraded Surface 2 and Surface Pro 2 tablets. Users will receive unlimited Skype calling to landlines in over 60 countries, plus Skype WiFi at more than two million hot spots worldwide and 200GB of SkyDrive storage for two years.
Get the scoop on all the Surface Pro's technical details after the break.
Dimensions — 10.81 (H) x 6.81 (W) x 0.53 (D) inches; 2 pounds
Display — 1920 x 1080p LCD 10.6-inch touchscreen
OS — Windows 8.1
Processor — Dual-Core Intel Haswell Core i5-4200U
GPU — Intel HD Graphics 4400
Memory — 4GB
Storage — 512GB, 256GB, 128GB, or 64GB
Camera — 720p front and rear cameras
Color — Black
The battery life has been improved as well, but Microsoft hasn't specified by exactly how much. New accessories will accompany the next-generation tablets. There's a new Power Cover ($200) with a keyboard, plus extra battery life built in, due for an early 2014 release. The Type Cover ($130), available for preorder on Sept. 24, also got an upgrade, with a thinner, lighter board and backlit keys. The Touch Cover 2 ($119) with soft keys is more rigid and, like Type Cover 2, is now thinner, lighter (2.75 mm thin), and backlit.
Will you be switching out your laptop for the Surface Pro when it arrives Oct. 22?