Middle-Earth and Lord of the Rings Facts
5 Facts About the Fictional Middle-Earth
J.R.R. Tolkien created a vast and complex world when he wrote The Hobbit and The Lord of the Rings trilogy. The setting for these stories, a land called Middle-earth is rich with its own languages, myths, races, and cultures. With the guidance of The Origin's of Tolkien's Middle-Earth For Dummies ($16), we've noted five facts about this fictional world that came straight from one man's imagination.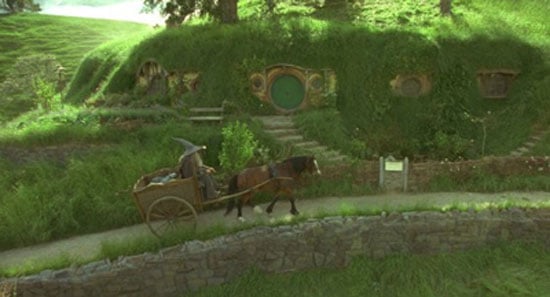 Hobbit origins — Despite Tolkien's statements that hobbits are in no way related to rabbits, the similarities are striking. Both live in holes, have furry feet that are fine shoeless, Bilbo Baggins wears a waistcoat reminiscent of the Alice in Wonderland's white rabbit, and several characters in The Hobbit remark on Bilbo looking like a rabbit.
Gandalf — Wizard Gandalf the Grey's name originated from the Dvergatal ("Tally of the Dwarves") section of an ancient Norse poem called the Völuspá. The Dvergatal includes a list of dwarf names, many of which are seen in the The Hobbit and The Lord of the Rings series, including Gandálfr, Fíli, Kíli, and Bombur.
Language — As a professor of Anglo-Saxon and proficient in over a dozen languages, Tolkien put a huge emphasis on linguistics in Middle-earth. He created languages used in his books, including Quenya, which has similarities to Finnish and is the language of the Elves.
For more about your favorite fantasy realm follow the break.
Sauron — Lord of the Rings movie watchers may remember Middle-earth villain Sauron as a giant eye, but in the books, as a powerful sorcerer, Sauron could assume many shapes to fit his needs beyond the eye.
J.R.R. Tolkien: Myth and Middle-earth in Context online course — The online course from the University of Wales Institute, Cardiff costs £340 but delves deep into the mythical world created by Tolkien. In addition to studying the languages the author's created for Middle-earth, the clan cultures of the world and major theme will be examined alongside his influence on pop culture.