Mike Wise Suspended Over Fake Tweet
WashPo Columnist Suspended Over Fake Tweet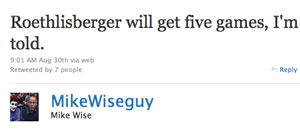 You may want to think twice about having loose lips on your Twitter account: Mike Wise, a sportswriter for the Washington Post, was suspended on Tuesday for sending out an untrue tweet to his followers.
Pretending to have the scoop on the suspension of Pittsburgh Steelers quarterback Ben Roethlisberger, Mike sent out a tweet on Monday, which gave the number of games the quarterback will sit out: "Roethlisberger will get five games, I'm told."
Find out why he tweeted when you read more.
The WashPo columnist wanted to show just how fast, and how far, unfounded news travels on social media. Big mistake. It didn't take long before folks were spreading Mike's news as the real deal. Mike came clean that it was all a hoax, and the Washington Post issued its punishment.
While it may seem harsh, Mike's suspension is in line with the news agency's policy about public conduct and use of social media. Because Mike is clearly identified as a WashPo journalist on his Twitter profile, his interactions on the platform must reflect the standards of the newsroom. Besides, experiment or not, I think that most people would trust that the sports writer from the Washington Post would have the scoop on a story like this. What do you think — punishment too harsh?