Mint Robot Hardwood Floor Cleaner
The Roomba For Hardwoods: Mint
I'll be honest: with my schedule, I don't have a ton of time to clean my apartment. I do, however, love gadgets that can clean for me, which is why I'm totally digging the Mint ($249) hardwood floor cleaner. Like the Roomba before it, the Mint was developed to clean your hardwood, tile, vinyl, and laminate floors while you're at work, at the gym, or otherwise unavailable for domestic chores.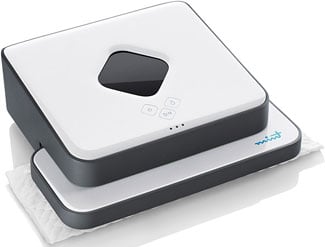 You use the Mint with the included Northstar navigation system, which acts like an in-home GPS unit for the Mint, telling it where it's been and where to go next so as to not miss a spot. The best part: you don't have to use any fancy or specialized cleaning cloths; you can use the ones you'd find at your drugstore for any hardwood sweeper (think: Swiffer).
The Mint is a bit pricey at $249 but totally worth it if you just can't find the time to clean your floors. Plus in the long run, it's probably cheaper than hiring a maid service.