MixBit Video App
Stop, Collaborate, and Remix: Meet MixBit, a Mobile Video Editor
From YouTube's founding fathers, Chad Hurley and Steve Chen, comes a video app that brings something new to the table: remixing. Like a DJ, mobile videographers can mix in publicly shared footage with their own on the MixBit app (free), which launches today on iOS (the Android version is coming soon).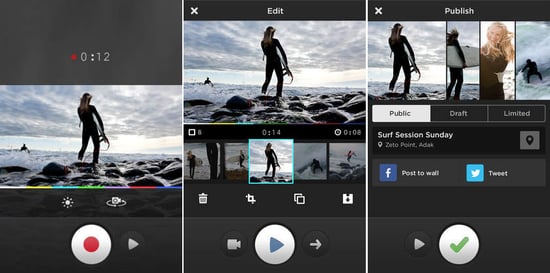 MixBit brings in the best of Vine and Instagram video with its instant press-and-hold to capture, made-for-mobile interface, and a social platform to share the footage. But it adds powerful editing tools to cut tape, add video captured at a separate time, and stitch those clips together.
Think of MixBit as the long-form version of what Instagram and Vine offer. In the app, users record 16-second clips and can stitch up to 256 clips together in one video. The video platform allows users to create and publish more well-rounded stories, rather than mere moments, with their mobile devices.
MixBit videos can be viewed and shared on their website. From 15-minute documentaries to quick cooking tutorials, there are already plenty of examples of what the app can do.
We love that you can save clips in a draft and add to your mini movie later. Will MixBit replace Instagram video and Vine? Let us know your thoughts, mobile mavens.