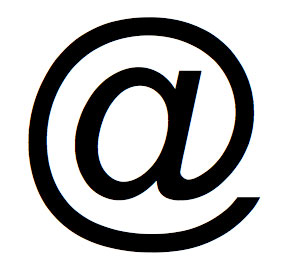 While it may be hard to believe, the origins of the "@" symbol go far beyond the use in online communication it's become famous for in the past 10 years. And now, the Museum of Modern Art has declared it a work of art. The symbol was added to the American Underwood typewriter in the late 19th century, but its origins date back to as early as the sixth or seventh century. In 1963, "@" was first defined as an abbreviation for the word "at," or "at the rate of" for use in accounting practices. It was used in the first email — in 1971 by electrical engineer Ray Tomlinson — partially because of its "at" connotation, and also because, according to MoMA, "it was already there, on the keyboard, and nobody ever used it."
To find out why MoMA considers the symbol a piece of modern art,
.
"Without any need to redesign keyboards or discard old ones, Tomlinson gave the @ symbol a completely new function that is nonetheless in keeping with its origins, with its penchant for building relationships between entities and establishing links based on objective and measurable rules — a characteristic echoed by the function @ now embodies in computer programming language.
Lately, the "@" symbol has taken on even more significance in our culture and is continually adopted by media and consumers as a communication tool. I'm a little curious how this counts as an "acquisition" since "@" is inherently free, but I am excited to see how it will use the symbol in the future.