Mobile App Deals on Black Friday
Get Phones Ready For Black Friday Mobile Deals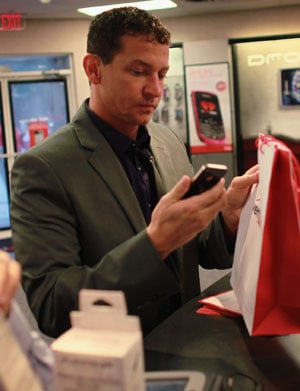 There's a new distraction for customers navigating long lines and crowded stores this Black Friday: mobile deals from competing retailers. In online stores' frenzy to get in on the post-Thanksgiving shopping action, they're setting up mobile-only deals to customers looking to escape to mobile browsing during the stresses of in-store madness.
With one research firm saying 10 percent of all ecommerce purchases in October were from mobile devices, retailers are seeing how technology enables customers to multitask and buy wisely. Stores including Walgreens, Amazon, HSN, and Gilt will lure shoppers to shop on the go with offers of mobile flash sales and coupons during peak morning Black Friday shopping hours. In fact, Amazon has a Price Checker app for Android and iOS devices that can be used to scan a product's barcode to search for a cheaper price tag at the online giant's own website.
If you're prepping for an after-turkey shopping excursion, don't forget to check our full list of Black Friday apps to ensure you find the best savings at the register. Are you likely to buy holiday gifts via your mobile device this year?