Mobile Email Signatures
Mobile Email Signatures: Love 'Em or Leave 'Em?
I'm all for helpful email signatures, but lately it seems like more and more people are choosing a cheeky signature to use when they send emails from mobile devices. I've seen everything from the standard "Sent from my iPhone" to the slightly more obnoxious "Sent from a mobile device, please excuse any errors."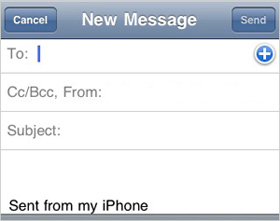 My feeling: unless you are an extremely important person — say, the president or something — you should be taking the time to check your message for errors. If you have time to send it, you have time to take the care to make sure it's up to your standards of emailing. One researcher even says that such mobile signatures can act as salt on a wound when the recipient feels like the sender didn't take the proper time necessary to reply. Do these irk you as much as they bother me?