Mock Funeral For Internet Explorer 6 Tonight
Pay Your Respects: Mock Funeral For IE6 Tonight in Denver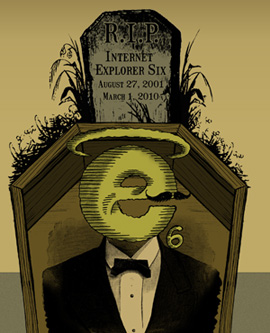 A Denver design group is hosting a mock funeral for Internet Explorer 6, the 8-year-old web browser that somehow is still installed on some consumers' computers despite the fact that everyone and their mother is ceasing support. The invitation invites mourners to gather with "fellow IE6 mourners and loved ones" decked out in funeral attire — there's even a prize for the best dressed attendee and the best IE6 memory!
If you're not in Denver, you can still pay your respects; just leave your own memory on the site, or below in comments! My favorite so far: "He had so many hangups, and he looked awful — especially in his later years."
This is a fun excuse for a geeky party, but not the first time the funeral-and-coffin theme has been used to bid adieu to outdated technology. Steve Jobs put Apple's OS9 in a coffin before the OSX announcement at an Apple event in 2002.
Update: In lieu of attendance, Microsoft has sent flowers to the IE6 Funeral crew to pay their respects!