Momento App Is Like a Diary For Your iPhone
Download of the Day: Momento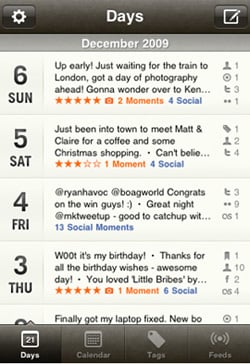 As a kid, I kept a series of detailed journals and diaries, most of which I still have and love looking back on. I've tried hard to keep up with my record-keeping as an adult, but responsibility and a seemingly endless to-do list sometimes get in the way.
This probably explains why I'm so in love with the Momento app for the iPhone and iPod Touch ($3). It's a journal-writing app that makes it easy to record tiny parts of your day that you may otherwise forget. It comes with a ton of features, including the ability to import your Twitter, Facebook, Flickr, and Last.fm accounts; tag notes with people, places, or other keywords for easy retrieval; and rate posts and attach photos. Notes, photos, and social activity are displayed by date and tagged according to the method you used to post them.
Momento is intended for personal use and doesn't post to anywhere on the Internet. You can even add a security code so that no one else can open the app — much better than the tiny locks adorning the diaries I used in middle school. Momento is available for download in the App Store.