Monster Beats By Dre Solo HD Headphone Review
Review: Monster's Beats Solo HD Keeps the Music Pumpin'
I had the pleasure of reviewing the Monster Beats by Dre headphones back in 2008 and was excited when Monster recently sent me a pair of Beats Solo HD ($230) over-ear headphones to check out. Truth be told, I'm already a Monster fan (with a pair of Heartbeats still taking top billing on my wish list), and it only took a few listens to convince me that these ultra-portable cans were superior to all the other headphones I've owned.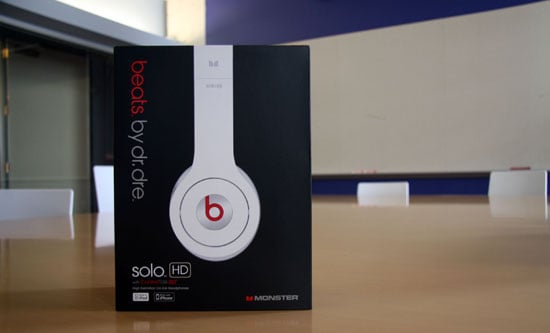 What makes these headphones so fab? Well, if the celeb musician endorsements don't do it for you — Will.i.Am and Katie Holmes are fans — then feeling like you're in a sound studio will. The over-ear cushions keep outside noises out so all you hear is the bumping bass and clear highs of your favorite tunes . . . just like they were designed to be heard.
Find out why else I'd throw down my cold, hard cash for a pair of Solo HDs (and one reason I wouldn't) when you read more
Unlike other headphones, extreme high and low notes don't get distorted when you listen with the Solo HD. Plus, if you're always on the go, these babies will be your BFF — they fold up into a small, compact package that you can take with you anywhere, and even come with a chic neoprene carrying case and cleaning cloth. Not to mention the fact that you can adjust volume, playback, and talk hands-free with the high-definition microphone on the Solo's ControlTalk controller that lives right on the cord.
What don't I love? As with most over-ear headphones, I get some discomfort while wearing my glasses, and can't go long without needing to take a break from enjoying my tunes at work. The Solo HDs are no exception. I found that the Solos fit really well over my ears when — ahem — worn solo, thanks to their padded ear cushions (and even offer a wide range of adjustments for head sizes), but I got some serious pressure on my ears after just 15 minutes of wear when sporting my glasses. This could be a concern and should be taken into consideration for glasses-wearing music geeks.
Overall, the Beats Solo HD headphones are a cut above the rest. Combine the sound quality, style (they come in white or black), and portability, and you have a solid pair of professional-quality cans that allow you to really, truly enjoy your music.