Most Romantic Cities in US
Foursquare Finds Top 10 Cities For Romance
Valentine's Day is a day away and amore is in the air. If you've set up a geek-filled date for your one and only, congrats on planning ahead. If not, well, you could always wander the streets of these US cities that were found to be the most romantic in the country. Foursquare studied 1.5 billion check-ins and determined which cities were the most romantic, based on check-ins to places deemed "romantic" for couples, like French restaurants, wine bars, flower shops, and lingerie boutiques. Ooh la la. Check out the list and get to road-tripping tomorrow!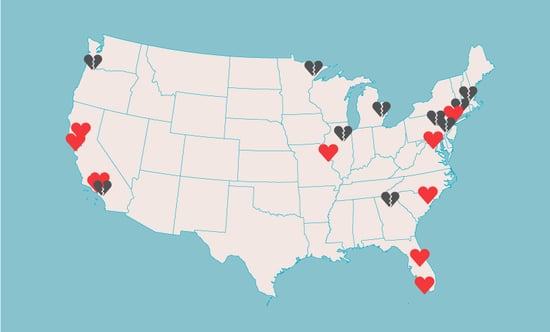 Lake Buena Vista, FL.
Napa, CA.
Venice, CA.
Saint Louis, MO.
New York, NY.
San Francisco, CA.
Reston, VA.
Beverly Hills, CA.
Myrtle Beach, SC.
Key West, FL.
Want to see the locations you should stay away from this Valentine's Day? Then just read more.
Foursquare also found the least romantic cities in the US. Better stay far away from these locations if you plan on having a successful Valentine's Day date!
Beaverton, OR.
Bethlehem, PA.
Lawrenceville, GA.
Sterling Heights, MI.
West Chester, PA.
Normal, IL.
Norwalk, CT.
Tustin, CA.
Duluth, MN.
Waltham, MA.