Moto G Phone
Hello Moto: Motorola's Moto G Is a Modestly Priced Marvel
Motorola made their latest smartphone, the Moto G, official today. With competitive specs and sleek hardware, the Moto G is a solid follow-up to Motorola's fully customizable Moto X line with one important distinction: a remarkable price.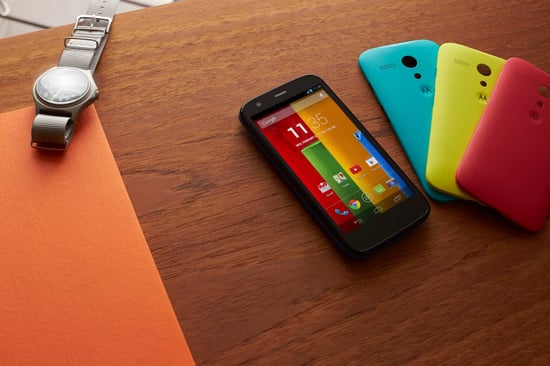 The 4.5-inch, Android-powered smartphone will cost $179 unlocked and without contract, when it hits US prepaid cellular providers in early 2014. The Moto X, which has a less powerful processor and a lower resolution display, has a price tag that's over $350 more ($530 with no contract and no customization) than the Moto G.






While the Moto G is slightly thicker and heavier, its build is very similar to the Moto X. The backplate is removable, and users can swap in different covers at any time, but there's no microSD slot for additional storage. The Moto G will be available in 8GB and 16GB versions, with 1 GB of RAM and a Snapdragon 400 quad-core 1.2 GHz processor. There's no LTE on the Moto G (yet).
The 4.5-inch display is LCD, not AMOLED like the Moto X, and boasts the same 1280 x 720p screen with an improved pixel density of 329. The Moto G does not have many of the Moto X's custom features like snapping your wrist to enable camera mode or battery-saving active notifications. The phone runs Android 4.3 Jellybean out of the box, but Motorola claims that Android 4.4 Kit Kat will arrive on the devices very soon. In terms of photography, the Moto G has a 1.5 MP, 720p front-facing camera and a 5 MP, 1080p rear-facing camera with LED flash.
The US, India, Middle East, and select Asian countries can get their hands on a Moto G ($179 for 8GB and $199 for 16GB) in early January 2014. If you're in Brazil and select parts of Europe, you'll be able to buy the Moto G sometime this week. Within the next few weeks, the phone will be sold in Latin America, Europe, Canada, and more parts of Asia. Watch the phone in action after the break.