Moto X Phone Pictures
The Fully Customizable Moto X: Pros and Cons
Google's mission is to make the Internet as accessible as possible and, with the announcement of the new Moto X smartphone, the tech company looks to be bringing that same principle to hardware.
The user-friendly Moto X is fully customizable — the front, back, accents, wallpapers, and back engraving are chosen by the user. Don't like your design right away? Motorola will let customers return or redesign their Moto X within 14 days (30 for California residents).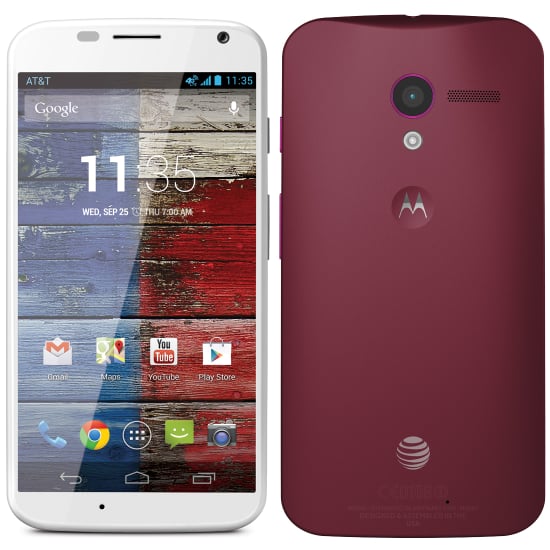 Google completed its $12.5 billion acquisition of Motorola Mobility in 2012, and the Moto X marks the first new smartphone line in the post-Google Motorola era. Unlike the Galaxy S4, the device isn't bogged down with tons of gimmicky features, just a few software quirks that get users the information they need quickly and without interruption.
With over 2,000 possible combinations, the Moto X is this generation's Nokia 8290 (you know, the one with interchangeable face plates). It's a smartphone that will appeal to users who are concerned with the look, feel, and usability of their devices, rather than fixating on the technical details.
The 4.7-inch Android device has a 720p AMOLED display and 10MP rear-facing camera (2MP front-facing). It's powered by a 2GB of RAM and weighs 130g. Moto X will land in stores and online in the US, Canada, and Latin America by late August/early September. Sprint, US Cellular, Verizon, and AT&T will carry Moto X ($200 for 16GB and $300 for 32GB, with two-year agreement), but customization is exclusive to AT&T.
Considering Motorola's new Moto X? We weigh the pros and the cons.
The Pros
It's assembled in the USA. After customization, the phone is put together in Ft. Worth, TX.
Customization is key. There are 18 different backplate covers, a black or white front panel option, and seven different shades for the side buttons and camera lens ring.
Google voice activation is one of the phone's marquee features. Without having to touch the screen, the phone will recognize any command after you say, "Okay Google Now."
Twist your wrist twice, and the phone will open camera mode automatically. Tap anywhere on the screen to capture.
Motorola claims the battery lasts 24 hours.
The "active display" lights up only a small portion of the display to show you notifications and save batteries. Tap anywhere to see the notifications without unlocking the phone.
The Cons
Customization is only available on AT&T. Huge bummer for those on other carriers.
$200 for 16GB is still a steep price for a midrange phone. It's the same price as the iPhone 5, Galaxy S4, and HTC One with a two-year contract.