Moto X Release Date
The Motorola Skip For Moto X: A Touch-and-Go Screen Unlock System
The small smartphone (by phablet standards) making big waves is Motorola's new Moto X, a fully customizable, user-friendly mobile device with a 4.7-inch display that, AT&T announced today, will arrive in stores (in woven white and woven black models) and begin customization online on Aug. 23.
AT&T customers who opt to personalize their Moto X will also receive a free Motorola Skip, a small electronic clip that unlocks the phone's screen without having to enter a pass code.
The Skip (pictured below) uses NFC (near field communication) to pair with the Moto X and authenticate its lock screen. It's about the size of your thumb and can slip onto a belt loop or pocket. Tap the Moto X to the Motorola Skip, and the home screen is revealed, without having to punch in an authentication code or use a unique swipe gesture — in fact, you don't have to touch the screen at all.
The Skip will be available in black and gray first and come free with all custom Moto X orders. Motorola plans on releasing more colors in late Fall.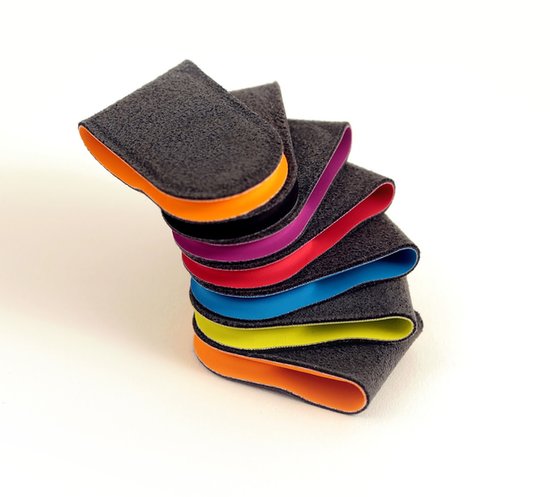 In addition to the Skip clip, the accessory comes with Skip "dots," which are stickers that can be attached to a desk, nightstand or other frequented place. Tap the Moto X on a Skip dot to authenticate, as you would with the Skip clip.
The Moto X, with all of its nongimmicky, user-friendly features, is a fresh new direction for Android devices. Motorola, which was acquired by Google in 2012, took a lot of common user behavior into account when designing the device. For example, the team calculated the number of times per day an average user unlocks their phone — 39 times and for power users hundreds more — and developed technologies like Skip and "Active Display" to make the Moto X more accommodating to that action.
Learn about "Active Display" and more of the Moto X's standout features, as we weigh the pros and cons of the new Android device. On AT&T, the 16GB Moto X is $200 and the 32GB model is $250, with a two-year agreement. With AT&T's "new phone every year" Next plan, the 16GB is $27 per month and the 32GB is $32 per month for at least 12 months.