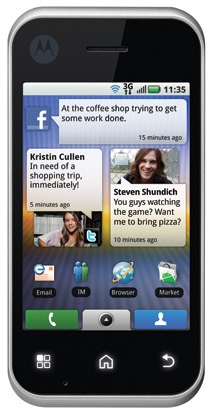 Android is finally coming to AT&T! The Motorola Backflip hits stores on March 7, and will cost customers $99 after a $100 rebate.
The phone, which made its debut at CES this year, features a unique reverse flip design to access the full keyboard and Motoblur, Motorola's way of syncing important info (emails, texts, Twitter feeds) to your home screen. The Backflip features a 3.1-inch touchscreen and comes with a video-capable 5MP camera with 4x digital zoom, cropping, rotating and geotagging capabilities, and the ability to add photo borders and text comments.
The Backflip comes equipped with Android 1.5 but will support an upgrade to Android 2.1 after purchase. While this is the first Android phone for AT&T, four more are expected later this year.