Motorola Defy Introduced on Oprah Winfrey Show
Motorola Defy Introduced and Gifted by Oprah, Audience Goes Nuts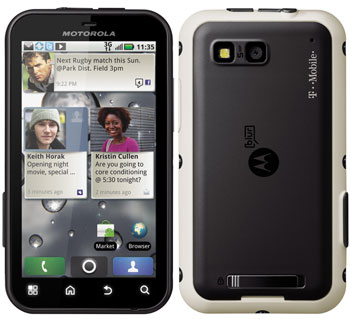 Although it may not be the first place you'd think about making a gadget announcement, you have to admit — Oprah Winfrey has a huge audience, and she's not afraid to endorse her favorite tech. Why wouldn't you launch a product on her show? That's exactly what Motorola did yesterday during The Oprah Winfrey Show's farewell season premiere when they introduced the Motorola Defy to the masses. Coming with a 3.7-inch WVGA touchscreen, the Defy was made to last . . . much like Oprah's highly successful career!
Not only do you get the benefit of other Android-run smartphones (camera, videos, Flash), but much like a few of our favorite outdoor-loving digital cameras, a body that is rugged and durable, so you can take it anywhere and not break a sweat.
See what the Motorola Defy is packing under the hood, and ICYMI, the Defy being introduced on The Oprah Winfrey Show (including the part where the entire audience gets to take one home) after the break.


Features coming with the new Motorola Defy include:
Scratch-resistant touchscreen display
Water-, and dust-proof body
CrystalTalk Plus technology that filters out background noise on two mics
Adobe Flash Lite
5MP camera with flash, zoom, and autofocus
DLNA connections to stream your content over your home network
Motoblur
Rugged exterior
The Motorola Defy will be available this holiday season through T-Mobile with pricing and release date info to come!