Motorola Xoom Tablet Running Android 3.0 Honeycomb
Motorola Outs Tablet, Smaller Device on Website Ahead of CES Announcement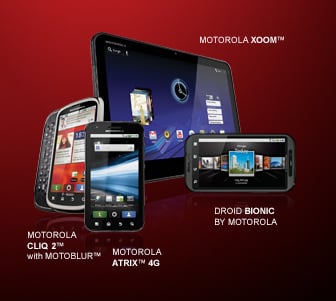 The Motorola CES press conference is going on right now, but it seems that the company has already released a promo image for its Honeycomb tablet, called the Xoom, along with another device called the Droid Bionic.
Update: We've had a chance to get the details on the new products, and both are coming with dual-core processors (dual-core = fast!). First, let's talk about the Xoom.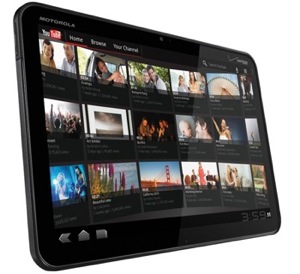 The Xoom will come stocked with:
10.1-inch HD wide-screen display
Dual core 1Ghz processor
"Floating" multi-finger use interface
Android 3.0
2MP front-facing camera, 5MP rear-facing camera with HD-quality recording and LED flash
First tablet to use a dual core processor, which means its faster and more powerful
720p video playback
"Upgradable to 4G" — a 4G device will come out later this year, but all models are upgradable to 4G
1MB of internal RAM
The Xoom will be available in Q1 2011. Find out about the Droid Bionic when you read more.
The Droid Bionic is a new smartphone from Motorola that will come with dual-core 1Ghz processors, and should be available in Q1 2011. Check out the specs below:

Verizon 4G LTE capable
4.3-inch HD display
HDMI out
512MB of RAM
Adobe Flash and HTML5 supported
Front-facing VGA camera, and rear-facing 8MP camera